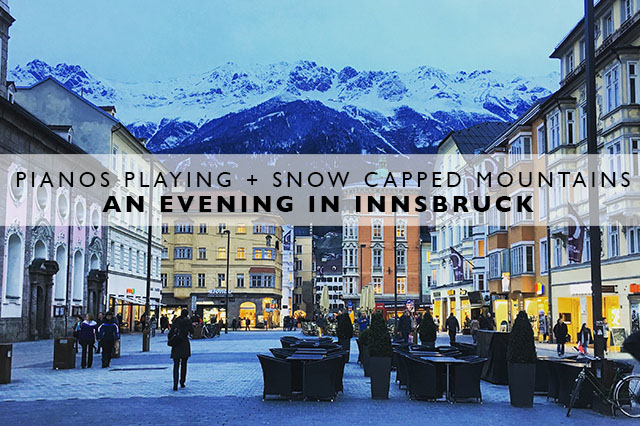 While I might not have fallen in love with Munich and Bavaria, when we crossed the border into Austria and arrived for an evening in Innsbruck for the afternoon and evening my heart started pounding.  Last year, we visited Vienna for the first time and I fell hard in love with both the city of Vienna and the Austrian culture and landscape.  So when we returned this year and arrived at our first stop in Innsbruck, we headed straight to the Old Town area that I had seen so many photos of.  We wandered around a bit, took some photos and then found a spot at an al fresco cafe in the main square of the Old Town and took a seat.  After ordering some food and a latte macchiato, we sat on a cold clear evening, watching as the clock tower started to light up, the mountains glistened with their snow capped tips behind us in the distance and a man sat down to play the empty piano in the open square.  It was like a dream washed over me as the music played and the lights started to come on, a peace fell over me that I never felt during our previous days in Munich.
There is something to be said about a feeling a place gives you, and just like falling in love, it's not always easy to explain why some places make us feel a certain way and others don't.  Some places just speak to us in a way that others don't.  Austria will always hold a special place in my heart and I know it's a place I'll come back to time and time again, a place that gives me such a good feeling every time I step foot in the country.
Traveling to Austria?
See all of my posts on the country!