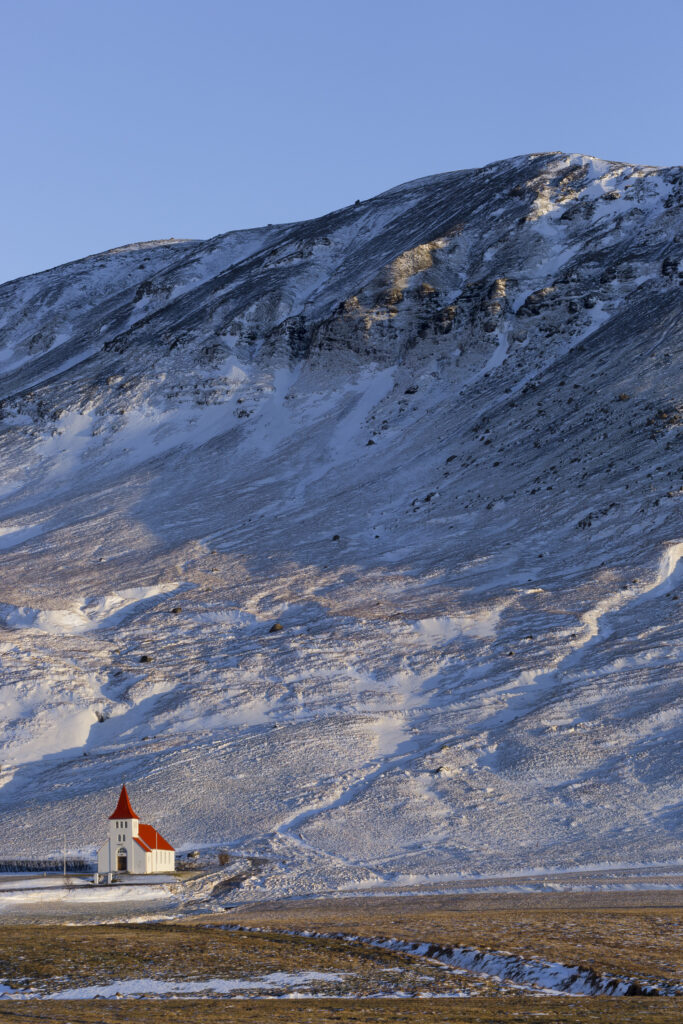 We've been to Iceland several times now and most of those trips we've rented a car and driven ourselves around.  Most of the time, it's totally fine and while we did encounter a random snowstorm in a mountain pass in the North of Iceland in May one year, every other time has been well worth having a car.  I've written a post about the basics of Driving in Iceland but driving in the Winter there is a totally different story!  So if you are interested in heading to Iceland in the Winter, here's all you need to know for driving in the snow and ice of Iceland.
Rent a 4×4 vehicle with Winter tires.
Usually, I try to get the smallest rental car I can find.  This time however, I wanted a 4×4 vehicle with a good all wheel drive and Winter tires so that I'd be comfortable driving in the snow and ice.  We went through Budget and booked a Ford Edge which we were so happy with.  It handled really great in the Winter weather and didn't have any issues even on some pretty sketchy roads.
Expect the unexpected like crazy strong wind and snow storms that start suddenly.
Iceland is notorious for weather that changes in an instant or for storms that seem otherworldly.  And driving in those unexpected instances can be challenging, like 75 miles per hour winds where you have to literally steer into the wind just to go straight or snow storms that start out of the blue and accumulate very quickly.  You have to think on your feet driving in the Winter in Iceland and be prepared for the unexpected.
Get the full insurance package.
This is a must in Iceland any time of year but for sure in the Winter.  Even though it's going to cost you more, please please please get the full insurance package with no deductible.  I can't tell you how many times we've been returning rental cars there and have the people in front of us dealing with an incident report with the rental car company because a rock flew and hit their wind shield or wind threw a piece of debris at them.  With the crazy weather in Iceland, it's well worth it to protect yourself!
Go slower than the speed limit in bad weather especially in high winds.
The speed limits are posted all through Iceland but the majority of the time in the Winter, you'll be going less than that.  High winds will prohibit you driving very fast as will snow and ice, so go slower and be cautious.
Give yourself plenty of time to stop.
I had a scary situation on our way back to the airport where a round about came up and I couldn't barely see it in the heavy snow and wind and had to slam on my breaks.  Good thing our car handled really well and the Winter tires stopped us from sliding, but when you need to stop give yourself more time than you think.
Check road conditions before you go anywhere.
I'm usually pretty good about this but our second day in Iceland this past trip, we originally wanted to go East but due to a massive storm, all the roads were closed.  So we headed inland to the Golden Circle and didn't think weather in that area would be a problem so I didn't check the roads.  We circled around through Gullfoss and then when we headed back to Reykjavik, a snow storm popped up and closed off some roads so we had to go a little out of way to get back to the city.  Long story short – always check the road conditions on Iceland's road website before you go anywhere!
Be flexible with your plans.
One thing to remember if you're headed to Iceland in the Winter, be flexible in your plans.  You most likely will have to change your plans at some point while there due to weather or availability so keep an open mind and just go with whatever comes your way!
Headed to Iceland?