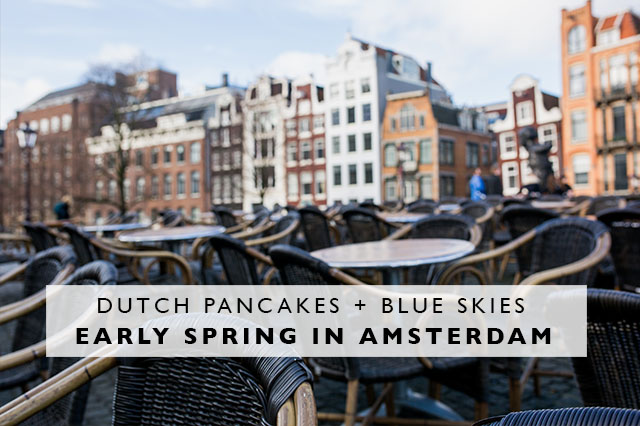 We arrived in Amsterdam around 8:30am on our flight from Portland.  We headed first to drop off our bags at our hotel (Hotel Pullitzer – which we loved!)  After dropping our bags and freshening up, we headed out for breakfast.  One of our favorite things in Amsterdam is the food, including amazing Dutch pancakes so we headed straight to a favorite spot, The Pancake Bakery, to indulge in a delicious breakfast.  On our way as we meandered through the 9 Streets and the famous canals, the sky was blue, the birds were chirping and incredible clouds filled the sky.  It was one of those incredible early Spring mornings in Amsterdam that you really can't beat!
Tips for Amsterdam
-Just wander!  The 9 Streets are the famous old section of the city with the canals and canal houses – don't have a destination in mind and just wander through this gorgeous part of the city.
-For Dutch Pancakes, I'd recommend both the Pancake Bakery (more room and easier to get into on a weekend) and Pancakes! Amsterdam (tiny little place and hard to get into on weekends, so go on a weekday or early on Saturday/Sunday).
-Splurge and stay the Hotel Pullitzer!  It was our first time at this hotel but we've now found our regular spot in the city, we loved it!
Traveling to The Netherlands?
See all of my posts on the country!