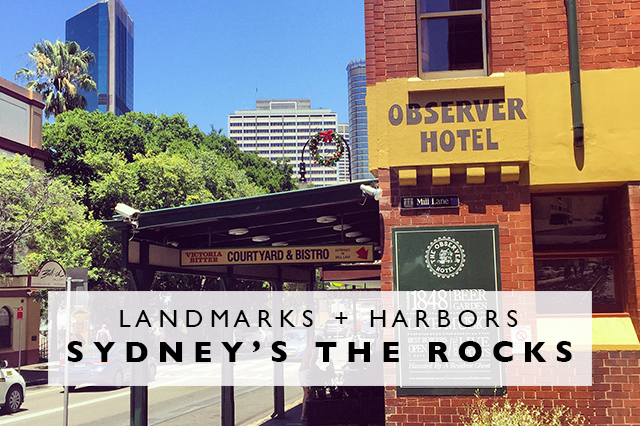 When we decided on Australia and New Zealand as our destination for this past trip, there was so much ground to cover (because how often are we down in that part of the world) that with flights and such, we could only spare 1 day in Sydney.  And since we had such a short amount of time in this famous Australia city, I knew we'd want to stay really close to the major landmarks including the Opera House and the Sydney Harbor Bridge.  That meant The Rocks area of the city was the place to be.  I booked us in the Four Seasons in that area and it was the perfect location to explore this famous neighborhood.
With close proximity to a bunch of restaurants, shops and of course the famous Opera House, as well as the ferry terminal, The Rocks is a great spot to start exploring Sydney from.  We spent our first morning in the city wandering the neighborhood, having lunch at an amazing German restaurant near our hotel and thoroughly enjoying taking in all the scenic views, landmarks and harbors.  We also wandered through a street market that had amazing homemade items like ceramic coasters (which we picked up for ourselves and gifts for family), cool stationary and just about everything crafty.  This area is full of eclectic buildings from old brick structures to modern skyscrapers in the distance, bordered by the harbor and open water, it shimmers on a beautiful day!
The day we were in this area is was 100+ degrees and so the nice tree cover throughout the area was defiantly a plus.  We quickly found out that Sydney's The Rocks neighborhood is a lovely area full of greenery, cute shops and restaurants and the perfect area to wander for your first dose of this famous Australian city!
Traveling to Australia?
See all of my posts on Australia!