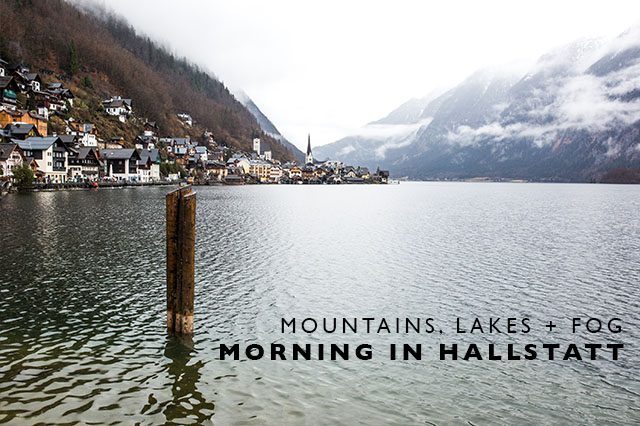 After arriving in Innsbruck the afternoon before, we headed off early the following day for an Austrian town that has been on my travel list forever!  I've seen photo after photo of the gorgeous alpine town of Hallstatt and have been waiting patiently to see it for myself.  Leaving Innsbruck, it was pouring rain and grey skies and that continued for much of the 3 hour drive to Hallstatt.  Though about a half hour before we were due to arrive in this gorgeous little town, the rain lifted and as we meandered through the curvy road back into Hallstatt, the fog hugged the mountains in a mystical way and the snow covered the surrounding mountains in a soft blanket.  A few times throughout the long and curvy drive, I could tell Nick was wondering if it really was worth the effort to make it to Hallstatt.  Though as we took a turn and finally caught a glimpse of Hallstatt on the other side of the lake, I looked at him and knew it was worth it.
We spent a few hours in Hallstatt, exploring, eating lunch and just taking in the beauty of this special little town.  The landscape in this area is simply stunning – especially as fog hung low and the snow covered mountains added a breathtaking view.  The town itself, lovely and quaint.  All in all, it was well worth the trek out to Hallstatt and I would highly recommend visiting for yourself!
Tips for Hallstatt
-While only about an hour from Salzburg, the road back to Hallstatt is pretty curvy so you'll drive slower than you think.
-This would be hard to get to in Winter, I imagine.  We drove through lots of snow on the sides of the road, but it's not a road I would want to be driving with snow on the ground.
-You have to park your car outside the actual town and walk in.  There are a few parking spots right next to the tunnel you drive through before the town, or you can keep going past the tunnel and pay to park right after you exit.  It's a short 10 minute walk into town from there.
-Hallstatt is quaint and quiet – you probably will only need 2-3 hours here.
-For the iconic view of the church steeple and mountains in the background, head all the way to the end of town.
Traveling to Austria?
See all of my posts on the country!