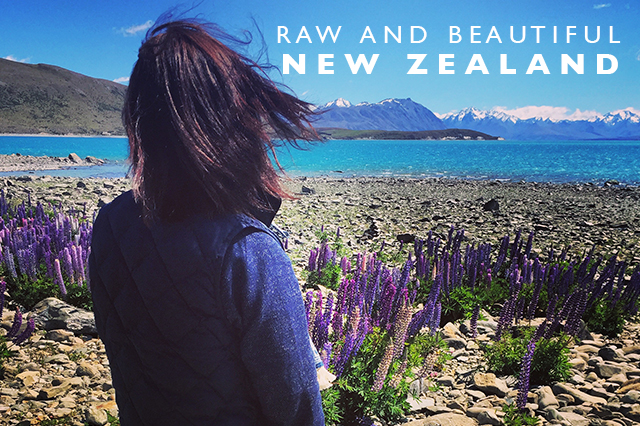 After our one day in Sydney, we were on to New Zealand.  To be honest with you, I'm not sure what to say about New Zealand.  Prior to the trip, we had high hopes for this country and we really thought it would be our favorite stop of the trip.  In retrospect, I think we had too high of expectations for a place we didn't know enough about and in that, we were let down a bit.  That's not to say we didn't like New Zealand, we did.  We just weren't blown out of the water like we thought we would be.
I've heard a lot of people over the years compare New Zealand's natural beauty to that of Iceland, a country that we love dearly and have visited many times.  And while I guess I can understand the comparisons in a very general sense, we had built up New Zealand in terms of what we love about Iceland, a country full of incredible landscapes every step of the journey.  Iceland is raw and stark and beautiful in almost every inch of the country (from what we've seen on our trips there), New Zealand is raw and beautiful in many places in the country but in an entirely different way and in a way more of what we're used to at home in the Pacific NW of the US.  And before you take from this that I didn't think New Zealand was beautiful, think again.  I did.  From the incredible teal water at Lake Tekapo and Lake Pukaki, to the stunning water and mountains in Wanaka to the gorgeous cavernous Queenstown, we saw a lot of wonderful and beautiful spots in New Zealand as we drove through the South Island.  Looking back though, it felt very similar to us of many places we've seen or places that we live near here in the US.
I liked New Zealand a lot.  I didn't love it though.  I didn't leave being completely blown away and I really wanted to.  The thing is, everything was actually lovely, it just didn't strike a chord with me like other places have.  There is no reason I shouldn't have loved it, I just didn't and that's a personal thing.  We also had a number of things go wrong while there (like getting sick and the worst turbulence of our lives), which also contributed to our thoughts on our time there.  Looking back though, I can see why people love New Zealand.  I can see why it's becoming more and more of a tourist destination and why its scenery is used in movies all the time.  And yes, it has some incredibly stunning spots, but there are also a lot of areas where it feels like you could be in Southern Oregon or a lot of other places in the US which aren't so pretty, which surprised me.  I didn't find that the scenery as a whole had such a sense of place.  There were many spots we drove through that could be anywhere in the world.  It didn't scream "you're in New Zealand."
Overall, I liked New Zealand.  We enjoyed our time there and there were many places that were incredibly stunning and unreal.  But would I go back?  I'm not sure and that perhaps would take some time for me to decide. And there is nothing wrong with that either.  Some people love New Zealand and that's wonderful, some people don't and that's ok too, to each their own.  So I'll move forward remembering the spots in New Zealand that I did genuinely love and moments like coming up onto Lake Tekapo and literally screaming how unreal the water color was.  And until I can fully wrap my head around how I felt about this lovely country, I'll let our photos of our experiences do the talking for me in the posts to come.
Traveling to New Zealand?
See all of my posts on New Zealand!