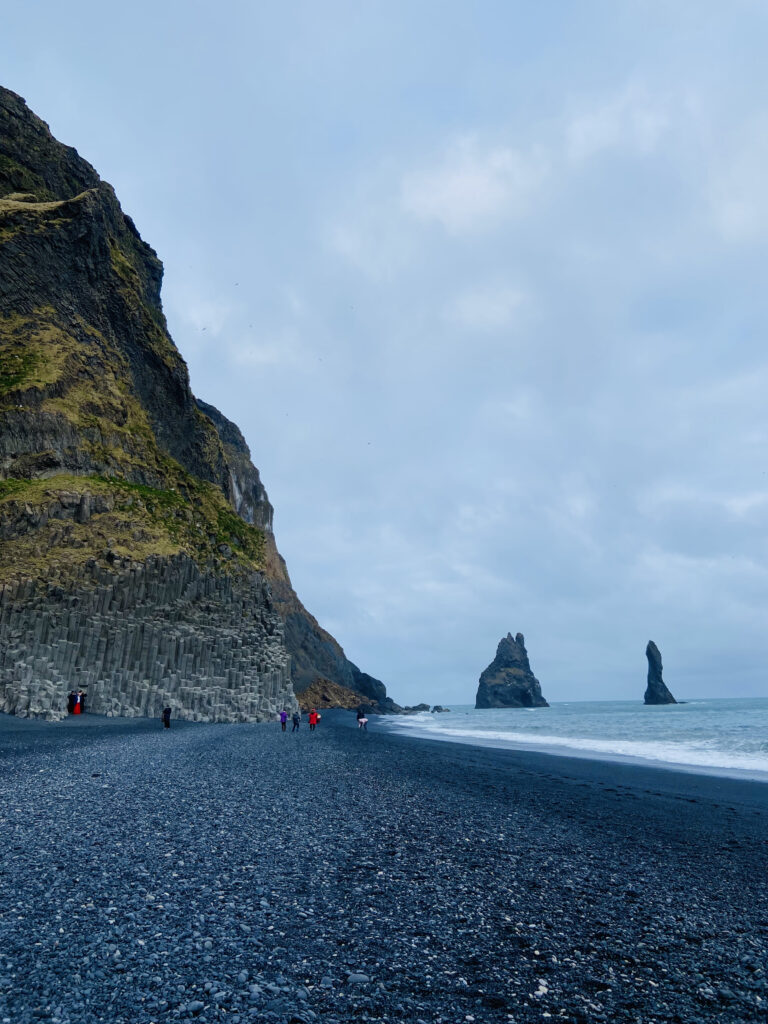 So you're headed to Iceland for the first time?  I've got you!  Iceland is literally one of my favorite places on the planet Earth and I've been more times than I count at this point.  And while I've been in every season possible, Summer is one of the overall favorites to visit Iceland, mostly because it's light almost 24 hours per day so you can utilize that jet lag and get out there and explore at 3am but also because the weather is the most temperate.  It's definitely not warm by most standards but it will be more pleasant than the dead of Winter!  Here is the perfect itinerary for your first Summer trip to Iceland and all the best places to see.

Head East and drive to Fosshotel glacier lagoon
I'm a fan of hitting the road when land in Iceland and instead of driving the 45 minutes into Reykjavik and seeing the city first, I like to see the landscape instead, as that's really the best part of Iceland.  I personally like to head East directly off the flight after renting a car and getting on the road.  Drive a few hours East, stopping at waterfalls like Seljalandsfoss and Skógafoss as well as playing on the black sand beaches of Vik to stretch your legs.  Grab lunch in Vik and then head on further East until you get to the Fosshotel Glacier Lagoon – my favorite hotel that I've ever stayed at in Iceland!  Once there, get settled, have dinner at the hotel and then try to get on local time.

Explore the Jökulsárlón glacier lagoon and Diamond beach
While staying at the Fosshotel Glacier Lagoon, use those days to explore the surrounding areas and some of the famous landmarks nearby like Jökulsárlón and Diamond Beach.  I'm a fan of these spots in the off hours when no one is around because it gets crowded at peak times.  Personally, we tend to wake up super early, like 3am early, during the Summer in Iceland and head out to explore. It's light out under the Midnight Sun and the light is beautiful for photos, plus there is literally no one around and you get Iceland all to yourself.

drive farther east around the corner
 past 

Höfn

Once you've had a couple days to rest at the Fosshotel Glacier Lagoon and you've explore the glacier lagoons and Diamond Beach, head towards Höfn, a small town on the South East shore of Iceland.  Höfn is a cute little seaside town but driving past Höfn, you'll see some of Iceland's most incredible landscapes.  Set your map to Husavik and just enjoy the landscapes as you drive North.

Explore Akureyri and Husavik
The North of Iceland feels entirely different than the South because it's pretty remote.  Not a lot of tourists head up here and usually, the Summer is the only time that you're able to drive the ring road all the way North. We've done it in June and still got caught in a snowy blizzard one time so it's definitely still sketchy at times due to the weather, but it's well worth seeing the North of Iceland.  Husavik and Akureyri are the two main towns up there and both are super charming.  This is the area of Iceland that you can also see Godafoss, the Waterfall of the Gods and it's definitely a must-see under the Midnight Sun.

drive back down South and explore the Snæfellsnes Peninsula
As you make your way South again, back toward Reykjavik, it's well worth a slight detour to explore the Snæfellsnes Peninsula.  This area of Iceland has some of the most scenic landscapes you'll see in the whole country.  Some highlights in this area are Kirkjufell and some of Iceland's most famous orange lighthouses.  I will say though, driving this area can be treacherous as many of the roads are just gravel so buy the insurance package on your rental car!

Stay in Reykjavik for a few days and see the golden circle
After making your way around the entire island, finish out your trip in Reykjavik, Iceland's main city.  I will say, in the nine plus years since I've been going to Iceland, Reykjavik has changed a ton!  What was once a quiet, little bit drab small city, is now a vibrant, cultural and hip large city.  New buildings are going up left and right, amazing restaurants are popping up all over the place and the colorful charm of Reykjavik is now a popular tourist spot.  My personal favorite way to enjoy the city is to rent an AirBnB and make some reservations at some of the city's hippest spots to round out your vacation.
While in Reykjavik, you can also see some of the most popular tourist spots in what is called "The Golden Circle."  This trio of sites that includes Gullfoss Waterfall, Geysir and Thingvellir National Park is just a few hours outside of the city and you can easily do a day trip to see all of the sites.  They are definitely crowded because this is where the tourist busses head first, but they are definitely still worth seeing!

Revel in the Magic of Iceland as You Head Home
I fell hard for Iceland years ago and with each subsequent trip, it burrows its way into my heart even more.  I hope you are able to revel in the magic of Iceland as you head to the airport and hopefully you get to come back in the future and see more of the amazing place that is Iceland!
Headed to Iceland? 
See more of our content on Iceland here!