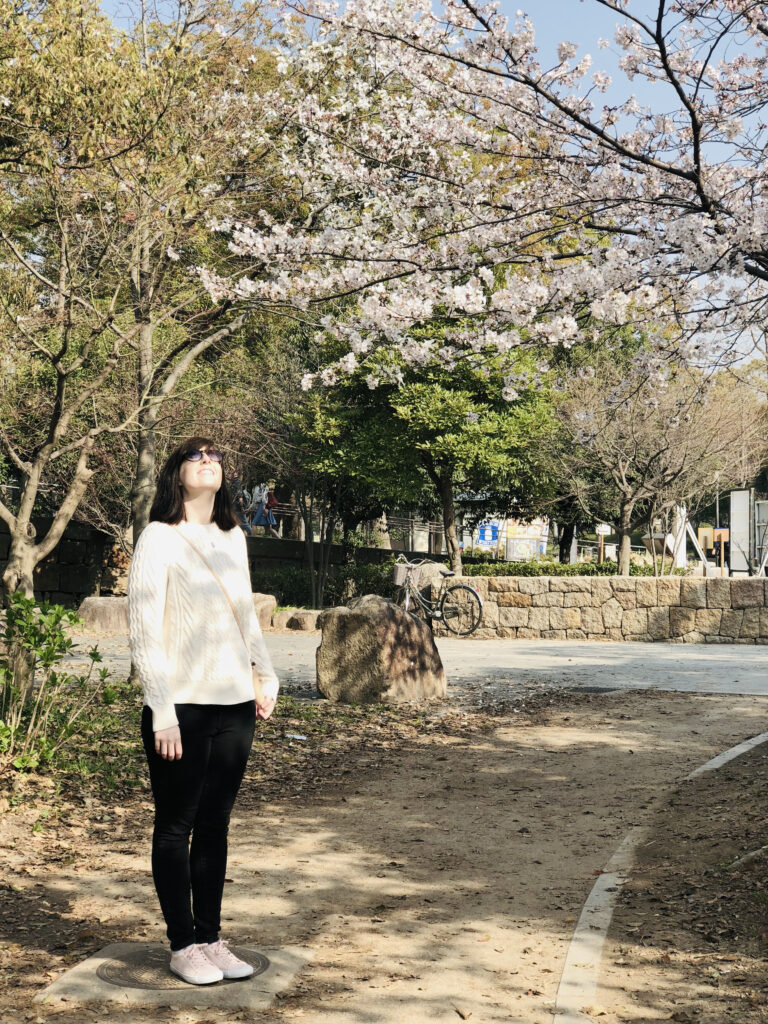 For a long time, I'd always looked forward to seeing Japan during cherry blossom season and with the hype this season gets in Japan, I knew it would be amazing.  So when our original idea for a Spring trip didn't end up working out due to scheduling, we moved some stuff around and made it work to visit Japan during this famous flowering season.  We ended up being there the week of peak blooms, totally by accident, and it was gorgeous but I definitely have some tips if you are planning something similar.
Be prepared to pay a lot more for your trip.
While booking this trip, I found everything to be a lot more expensive than our previous trip to Japan when we went in November.  Hotels and flights were really high during the weeks around cherry blossom season so be prepared to travel on a much higher budget than normal for Japan in the last few weeks of March and the first couple of April because the demand is so high this time of year.
Go to main sites early.
The few places we did visit first thing in the morning early, like before 8am, we got incredible photos and really got to enjoy the beauty of the places.  We went to the Arishiyama Bamboo Forest and were there around 7am and while there were other people, it was pretty empty compared to other photos I've seen and stories I've heard.  When we went to the Fushimi Inari shrine following our morning at the bamboo forest, it was crazy full of people because it was later.  If I had to do it again, going at such a busy time of the year, I would plan out all the main tourist sites and visit them all early in the day to get a less crowded experience.
Be prepared to wait for photos.
At the Fushimi Inari shrine, Nick waited at least 40 minutes for a decent photo of the shrine without masses of people in his photos.  If you are in Japan to photograph it and that's important to you, be prepared to wait.  All the beautiful spots are packed during this time of the year in Japan, so you'll need to be more patient than normal.
Don't forget to just take in the beauty.
Sometimes in the chaos of the main spots, I felt a bit overwhelmed and wasn't able to fully take in the beauty of Japan during cherry blossom season.  I found it more enjoyable to enjoy the cherry blossoms and other beautiful sites when we came across local areas by accident, which will speak to the next point below!
Find off the beaten path spots in more local areas.
We found the most beautiful spots weren't actually the tourist ones we had read about, but a random little canal in the downtown area of Kyoto with cherry blossoms lining it and petals falling like snow.  It was all locals enjoying the spectacle and it was easier to enjoy it without the herds of tourists.  Try to just wander and find some of the off the beaten path spots to enjoy it more!
Watch the forecast but realize you might not hit the peak dates.
We obviously, like many people, were booking our trip way ahead and couldn't plan it completely last minute around the forecast for peak blooms.  We got totally lucky that we were in Osaka and Kyoto at peak bloom and wow, they were beautiful.  But a few days when we arrived in Tokyo, most of Tokyo's blooms had already faded past peak and while still pretty, they were a lot less vibrant than we had had farther South in Japan just a few days earlier.  So realize that while you can try to plan your trip around peak blooms to see it, you might miss it even if it's by a few days before or after.
Headed to Japan?