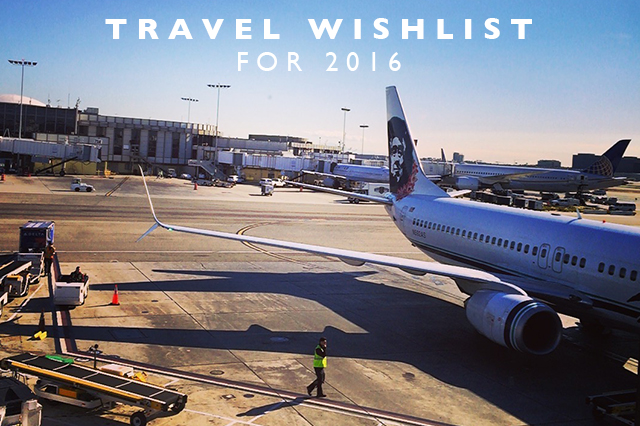 As 2016 begins today, I can't help but look ahead at the new year ahead and look at the places I'd love to visit this year.  We have travel booked through May right now, but I've got my eye on a bunch of places that I'm hoping we can make it on to the 2016 calendar this year.  We've got amazing trips planned for the first half of the year, but in the second half of the year I'm hoping to take some smaller, but meaningful trips to celebrate birthdays (we both turn 30 next year) and generally indulge in some beautiful places.  I think 2016 will be a year to remember and here's my travel wishlist for 2016 and beyond…
Santorini
This famous little Greek Isle has been on my travel list for a long time.  My parents traveled here before I was born and they still talk about it, so needless to say, I've always wanted to go.  And we'll be stepping foot in this beautiful place in April as the last stop on our trip through Europe and I absolutely can't wait!
Tuscany
Tuscany has been thrown around a lot by Nick and I when we plan trips to Europe.  We've always wanted to go and drive through this famous area in Italy but it's never been super convenient on past trips.  But when we decided to give Rome another go (after our first trip there didn't go so great) on our trip to Europe in April, we decided to rent a car and drive up through Tuscany, stay a night in Florence and enjoy the region.  I can't wait for the scenic Tuscan views I've heard so much about!
Peru
Long at the top of Nick's travel list, we'll be visiting Peru in May this year!  It will be a quick trip and only really stopping in Cuzco and Machu Picchu, but we are beyond excited to step foot on another continent.  And with this trip, it will mark our sixth continent of traveling before we both turn 30 next year which was a big goal of ours!  This will also sort of double as an early celebration for Nick's 30th birthday in June and we're so excited.
Palouse
I've been seeing more and more photos floating around from the Pacific NW lately and one of the places that has caught my eye is Palouse in Eastern Washington State.  With gorgeous rolling hills and wildflowers, I'm hoping we can make a weekend of it and head up to the area in the Spring.  It's always so important to see the amazing places close to home as well as around the world and I would love to explore more of the Pacific NW this year!
Big Sur/Carmel
I've been wanting to get to this area for a while and it just hasn't seemed to work out timing-wise.  I actually had it on my wishlist last year but it just didn't work out with our schedule, so hopefully this year we'll make it down there!  We're thinking maybe a long weekend in this area next September if we can fit it in.  But coastal views, forests and windy roads – sounds lovely!
Japan/China
For our annual November trip this year, we're thinking of heading to the Orient!  We're looking at stops in Tokyo, Kyoto and Beijing as well as making the trek to see the Great Wall while in China.  I can't wait to start planning this trip and experiencing these two countries the best we can!
Vermont
For my 30th birthday in October next year originally we were thinking of maybe trying to make it back to the Middle East to ring in my milestone birthday near where I grew up.  But after this past Fall of way too much travel that completely wiped us out, now I'm thinking of going somewhere where we can fully embrace the Fall colors (my absolute favorite time of year), is closer to home and Vermont is sounding lovely for that!  I'm thinking of a long weekend driving country roads under changing leaves and wandering little towns in the Fall foliage.
Banff
Last year as the Summer got really hot here in Portland, we were thinking of escaping somewhere farther North to get some cooler weather as a reprieve.  So as Summer approaches later this year, I'm thinking of maybe a long weekend up in Banff to enjoy the beautiful natural spots in that area and escape the city heat.  We'll see if it work with the schedule, but hopefully it will!