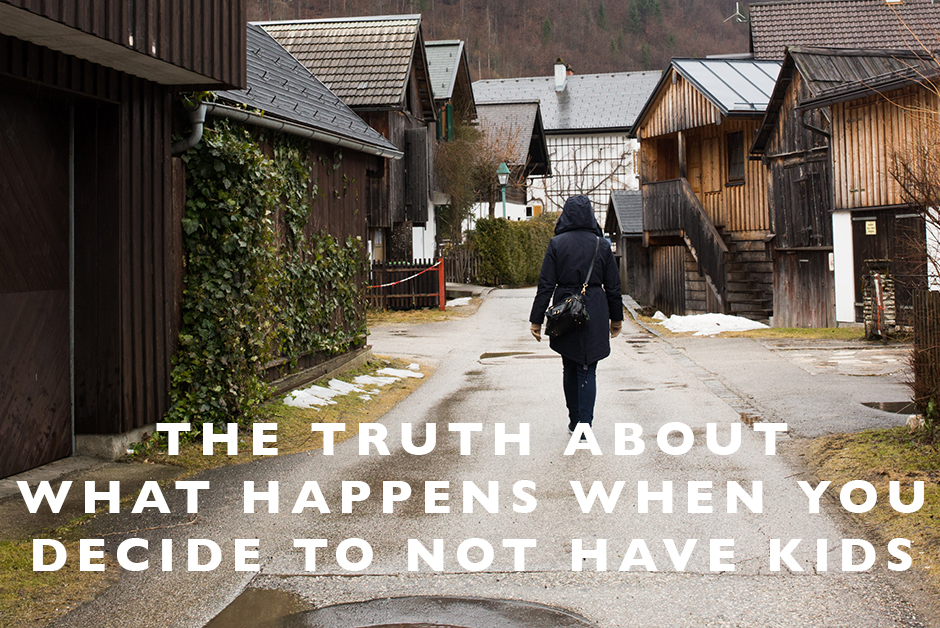 I've talked before here on LOM about my decision to not have kids of my own and knowing at a very early age that that traditional path just wasn't for me.  I've heard all the comments from people imaginable: "you'll change your mind," "you'll miss out on so much," "but what will you do with your life?"  And while I have specific answers to all those questions and more, I'm always shocked that in 2018 as a self-sufficient, independent and successful woman, I'm still subjected to people's opinions on the matter.  The truth is that kids just aren't for me and I'm being true to myself by making that choice, that's the long and short of it.  I firmly believe that I'm not missing out on anything that isn't right for me and in actuality, the things I'm able to do in my life might be things that someone who has kids misses out on and as for what I'll do with my life?  Well I'm pretty excited with what's yet to come and the things I'll get to do.  Kids aren't for everyone and instead of pushing that path on other people or making women feel bad for following their own path, we need to support each other and stand up for the different paths we'll all take throughout our lives.
I could go on and on about the reasons I have chosen not to have kids of my own, but today I want to talk about something else – the truth about what happens when you decide to not have kids.  After all the comments are made and the looks of puzzlement on peoples' faces pass, what happens next is not often talked about and I want to share my experiences the past few years in the hopes that someone else out there might be feeling the same way and will know they aren't alone.
In the past couple of years, all of my close friends have had kids.  I've followed their journeys of trying to have kids, of having them and then of raising them.  I've grown to love their kids, see them at different stages and celebrate milestone birthdays, buying them fun little trinkets from our travels all around the world and slipping them whipped cream in my kitchen when their parents are busy.  I've watched as my friends have become parents and talked about their journeys, the hardships and joys.  And don't get me wrong, I love all of that.  I love being a part of these kids' lives, I love having the opportunity to offer another perspective to them as they get older and I love seeing my friends grow in their new roles as parents.  But I won't lie, this time in my life has also been incredibly isolating.  What no one tells you when you choose not to have kids, is that for a while, you'll perhaps be the only person in your circle that's on a completely different path and that's sometimes really lonely.
It sort of all hit me last Summer when I had already had a really emotional year with a lot of relationships changing and I suddenly hit a point where I thought to myself, "Am I really making the right choice not having kids?" In truth I had never questioned my choice my whole life and always knew what was right for me, but after a year where a lot of people close to me really let me down, looking around I suddenly had a moment of doubt.  It wasn't that I had changed my mind, it wasn't that I was really doubting what I knew in my heart was the right choice for me.  In the end, after a lot of soul searching and thought, I realized that my answer hadn't changed at all about having kids, but instead I was seeing in front of me that things were changing, relationships with the people in my life were changing, and for better or for worse, that was changing me.  It wasn't until my birthday trip to Paris last October when I finally realized after months of soul searching, that while this time in my life might be isolating, while my friends and people close to me might be moving onto new chapters of their lives by having kids, it just means that my path veers slightly knowing that.
So here's the honest truth if you choose not to have kids of your own: There will come a time where a new era starts, it will start suddenly and hit you strong, when everyone around you suddenly diverges from your path.  And you'll be left alone on a completely different journey, not sure what's ahead but sure it's the right path for you.  You'll find yourself wandering alone for a while but eventually, those paths converge again ahead and you'll find your way back to a point in time when your paths meet again with those people you love.  The lesson along the way is not to doubt yourself, to know who you are and be ok with that, even if it means being on a different journey than everyone around you, even if it means being isolated and sometimes a little bit lonely.  Because in the end, just because my path is different doesn't make it any less beautiful.