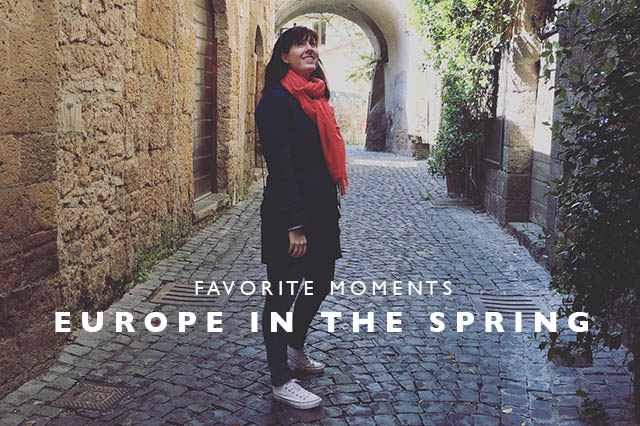 We arrived home last Sunday night from our trip through Europe and last week consisted of catching up on work, unpacking and getting everything back in order for a crazy month ahead!  But as I started reviewing our trip and as I start recaps here on the blog, I always love doing these Favorite Moments posts from our travels.  There are always amazing moments that evoke a place, produce amazing memories and keep travel at the forefront of our minds when traveling.  This trip was one of the best we've had and we saw so many amazing places, had so much amazing food and came home with lots of amazing moments to remember.  So without further ado… my favorite moments from our travels through Europe in the Spring!
Paris in Bloom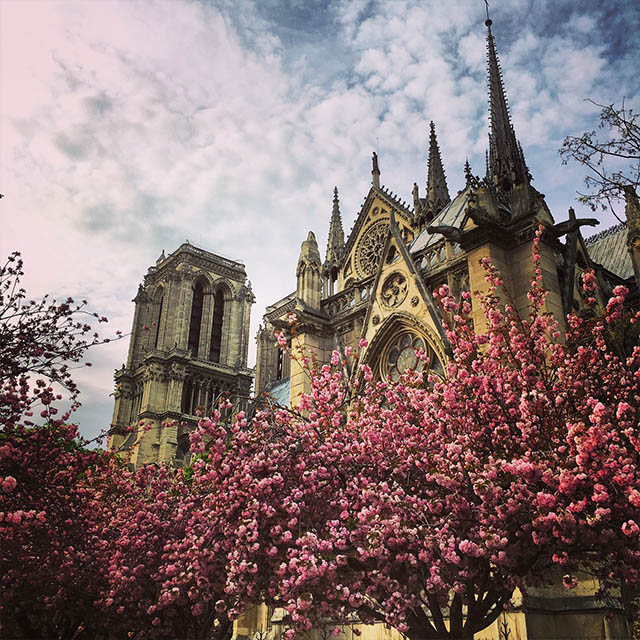 We started out our trip this time with 3 days in our favorite city of Paris and after over a year and a half since we were there last, we reveled in exploring the city again.  We've never been in April so we loved the fact that all the beautiful blooms on trees and flowers were out in full force this time of year in the city.  From the cherry trees next to Notre Dame to the poppies in bloom in the Jardin des Plantes, Paris was in full bloom and we relished every second of it!
Falling in Love with Rome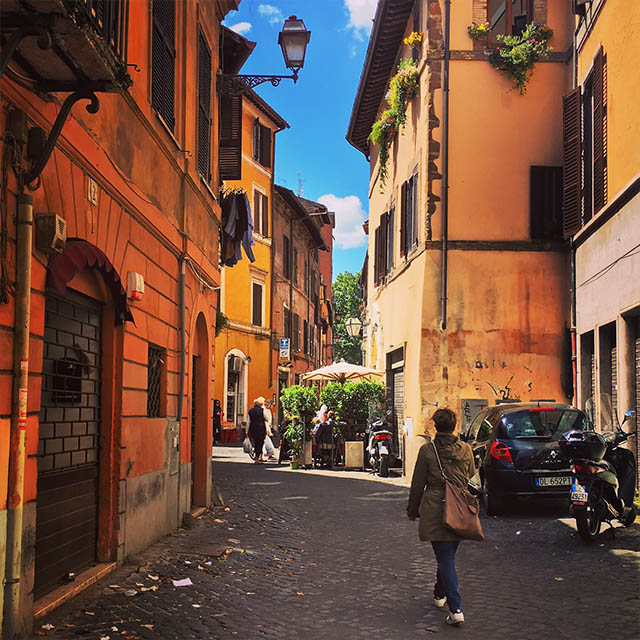 As I mentioned before our trip, we added Rome to this trip in an effort to "redo" it and see it from a different perspective from our first trip there a few years ago.  This time around we spent 2.5 days in this famous city just wandering, with no real schedule, just taking it all in and enjoying the moments.  And I can honestly say after this time around, we fell in love with Rome.  The city is a million times better if you stay away from the tourist spots, wander for hours stopping only for gelato and long meals.  I can't wait to start sharing our time in Rome and I'm so glad we gave it a second chance!
Orvieto and Montepulciano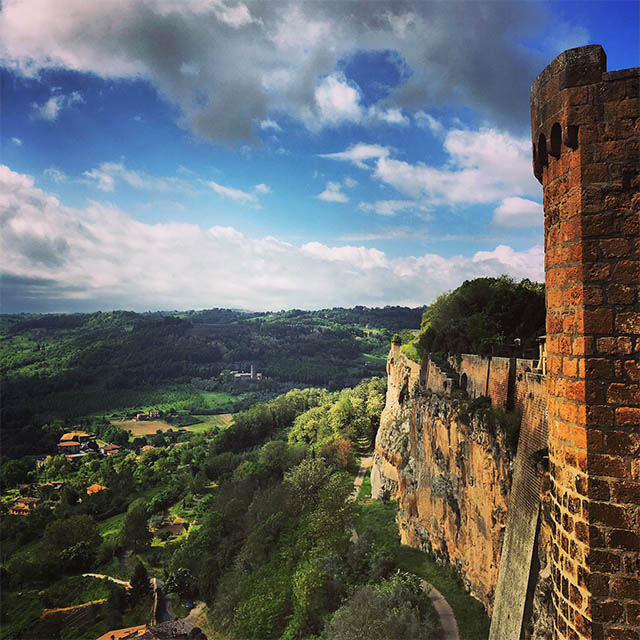 After leaving Rome, we rented a car and drove through Umbria and Tuscany.  We stopped at a few towns along the way, but our favorites were by far Orvieto (in Umbria) and Montepulciano (in Tuscany).  Both hilltop towns were unbelievable and we fell in love with the Italian countryside as we explored!  Our day driving around Italy was one of our favorites of the trip!
Vienna's Food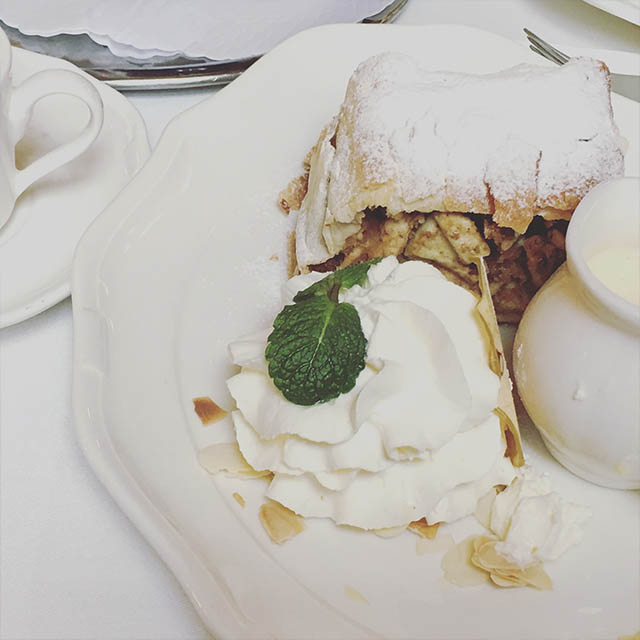 Vienna, oh Vienna.  We just had a night here due to flight connections that were necessary to fly directly to Santorini and it was never high up on my travel list.  But… sometimes with no expectations come amazing things.  I fell hard for this city and told Nick numerous times while there that I could move there in an instant.  The city was amazing itself, but the food… where do I even begin?  We laughed with our hotel concierge upon check out at how much I had eaten while there and how all the food in Vienna is completely my type of food: meat, potatoes and sweets.  And no joke, it's all I ate while there!  From weiner schnitzel bigger than my head to incredible coffee and pastries, to Viennese chocolate cake and warm apple strudel.  I think I ate more in the 14 hours or so we were in Vienna than perhaps the whole rest of the trip!
View from our Hotel in Santorini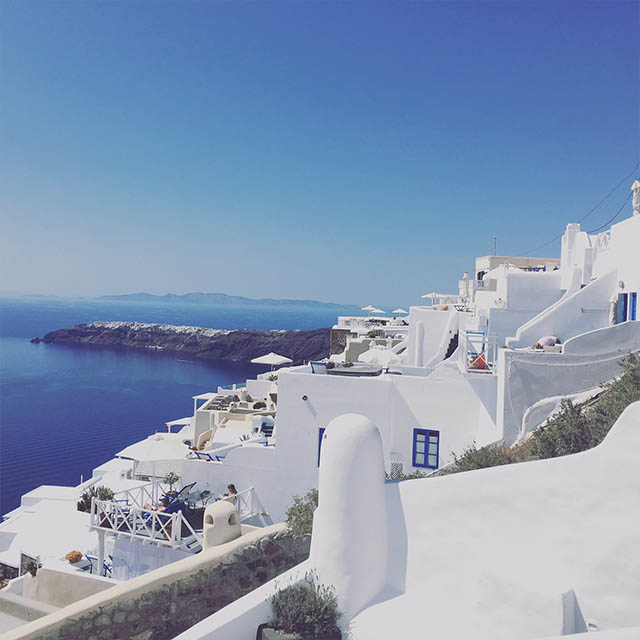 While Santorini was in truth our least favorite stop on our trip (and I'll explain more on this later when we get to our Greece posts), upon arrival at our hotel, we couldn't help but stop and revel in the incredible view from our hotel balcony.  And while we didn't love Greece, you can't help but be amazed at how they've built Santorini, at the views and the expanse of the caldera views!
Running into Selena in London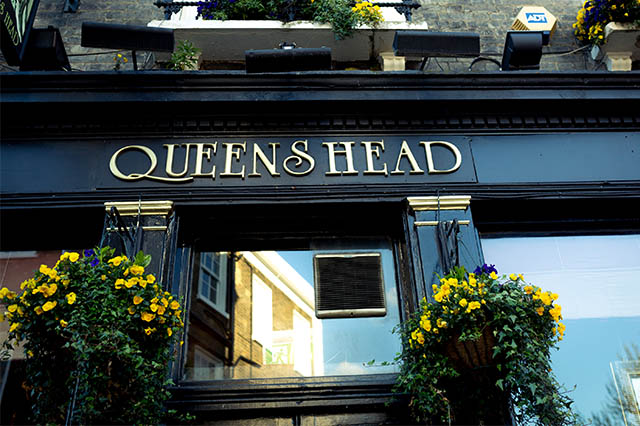 On our way home, our flight from Athens was canceled a few weeks before our trip and we ended up having to be re-routed through London and spend a night there.  Honestly, it didn't bother me one bit  because I love London and any excuse to spend a night in one of my favorites cities, I'm on board.  Anyways, we ended up getting an earlier flight from Athens (about 3 hours earlier than our scheduled one) and arrived in London mid-afternoon on Saturday.  We got to our hotel and then wandered down through South Kensington and Chelsea to find a pub for dinner.  One of our requirements of where we ate was to have sticky toffee pudding as that's a favorite of ours and not to missed in the UK!  So we headed towards the King's Road and randomly saw a cute little pub on the corner of a random street called the Queen's Head.  It looked cute, had Sticky Toffee Pudding on the menu and so we headed in, sat down at a table and were looking at the menu when someone came up to our table and said, "Casey?" I was sort of blown away at first, because really "who would randomly know me in a random pub in London?"  It happened to be Selena of Oh , the Places We Will Go!, one of the travel bloggers I've followed for years!  We chatted for a while and couldn't believe what the chances were that we would choose that pub at that time and that her and her husband happened to be there at the same time!!!  It was so lovely meeting her and totally reinforced the fact that the world is so so small!
Quiet Early Morning Walk through London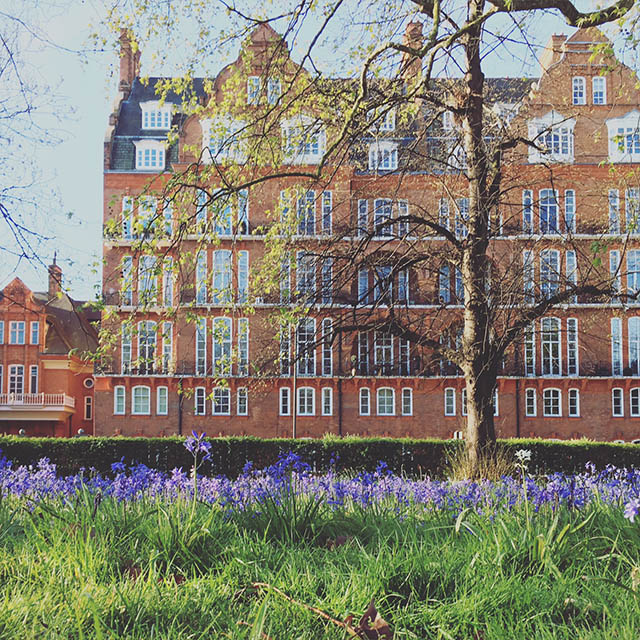 Our final morning before heading home we woke up early due to still being 2 hours ahead on Greece time, so we headed out of our South Kensington hotel (the Ampersand, which has become our go-to in London) and wandered toward Hyde Park.  The sun was bright and shining, the streets were empty due to it being early Sunday morning and the city was sparkling.  It's mornings like that when traveling that just keep me going, moments when you seem to have a city to yourself, moments when you're just wandering foreign streets with someone you love, when the world seems to be an incredible magical place, when everything seems to fit into place.  Those are the moments, like a quiet early morning walk through London, when dreams come alive!