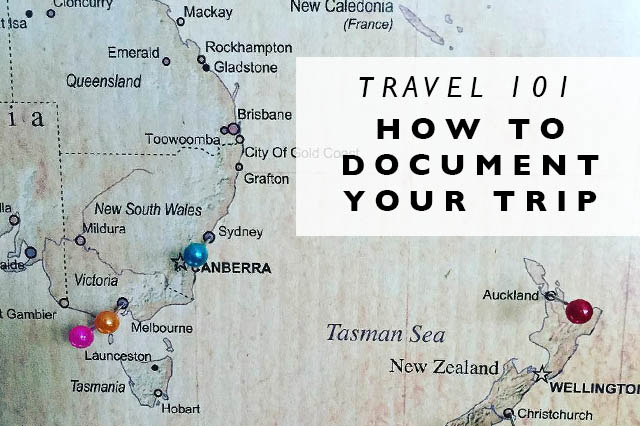 We are currently exploring some of favorite (and some new) spots in Europe this week, but while we're away, one of the goals of Land of Marvels is to offer advice to those of you who want to travel in order to get to that dream destination yourself.  So this week, in Travel 101, we're touching on the basics of how to travel, what to do once you get there and everything in between.  So follow along and welcome to Travel 101!
Part of traveling is also being able to document it, so that when you get home, you have lots of great memories and photos to remember it by.  It can often be a daunting experience though thinking about how to capture your trip the best, so today, here's my best tips on how to document your trip the best way for you and the easiest way possible!
Pick a camera (or cameras) to take with you.
For us, Nick is the photographer mainly but I do like to snap photos here and there as well.  We take more camera equipment than most, but if you're curious what we use, here's the cameras that are standards in our travel bag: Canon 5D Mark III, Go Pro Hero 4, and Panasonic Lumix GX7.  All of them get used at one point or another when traveling though and all have definitely pros and cons.
Rent a lens if necessary.
Many times on our travels, particularly for certain places, Nick will rent lenses for our cameras.  This way, even if we don't own the lens to use all the time, we can pay a fee to rent it for however long we need.  Nick's favorite sites to do this are: Lensprotogo.com and lensrentals.com.  For example, when we go to Peru and Machu Picchu in May, we'll for sure be renting specialty lenses to capture this amazing monument.  Or sometimes, we'll decide to just travel with our Panasonic Lumix GX7 and since we only have a couple lenses for that camera, we'll rent a few for a trip to make sure we can cover everything.
Some of the favorite lenses Nick has rented or rents consistently are:
Canon: 70-200 F/4, 35mm F/1.4, 17-40 F/4, 100mm F/2.8
Lumix: 17mm F/1.7, 12-35 F/2.8, 35-100 F/2.8
Try to work in taking photos part of the experience while traveling.
One of the things to get in the habit of is to just work in taking photos or the time it takes to take nice photos into your travel schedule and experience.  This makes it easier to not be overwhelmed as much by trying to take photos while exploring.  We have a routine now that just includes time for Nick to stop and take photos or for me to stop when I see something interesting.  Be sure to work that into your schedule and it will be a lot easier!
Don't forget about your iPhone.
Most of us have iPhones these days and Nick and I rely a lot on them when we travel.  It's easy to go overboard with DSLR's and all the up to date camera equipment but truthfully, at the end of the day, we've gotten some incredible shots on our iPhones.  Be sure to keep them handy so when you see something, you're ready to document it.
Don't let photos take over though, keep it balance and see everything with your own eyes as well.
One lesson I've learned though over the years is to not let your taking all these photos affect how you really see a place with your own eyes.  Be sure to find that balance of both actually seeing and taking photos because what's the point of a photo if you can't even remember what it looked or felt like in person?  So be sure to stop and take in the moment as well as photographing and documenting it!