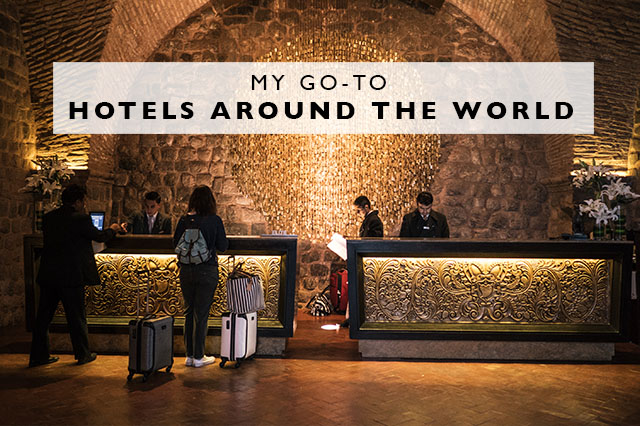 As travelers we all have hubs around the world that end up stopping through now and then.  It's pretty inevitable that over the years you'll rack up your own "go-to" hotels around the world in those hub cities or in places you frequent a lot.  Sometimes it's nice to just have a hotel you're used to staying in and know what to expect when swinging through those familiar cities.  So if you're looking to find some "go-to" hotels for yourself in major cities around the world, these hotels have become my own go-to hotel around the world and I can't recommend them highly enough!
London: The Ampersand 
We stop through London a lot as it's such a hub for Europe, plus it's an amazing city on its own as well.  Our go-to in the British capital has become a hotel we really look forward to staying at.  The Ampersand is a central location and easy to get to via Tube or Cab, it's beautifully designed and our stay is always impeccable.
Paris: Le Notre Dame
We visit Paris at least once a year, as it's one of our favorite places in the world.  Over the years we've stayed at a lot of different places in Paris – some hotels, some AirBnB's but in the end, I keep coming back to Le Notre Dame.  The location can't be beat – right on the RER line from the airport, across the street from Notre Dame and within walking distance to all the famous sites in the city.  Plus, the views truly blow me away every single time.
Tokyo: Tokyo Station Hotel 
After staying here for the first time this past Fall, I know it will become a mainstay for us as we fly through Asia.  Tokyo is such a hub when traveling through Asia and the Tokyo Station Hotel is an amazing go-to hotel to add to the list.  Right above Tokyo Station where the trains from the airports and other places in Japan arrive, the hotel is impeccably designed, has an amazing staff and has one of the best locations of any hotel anywhere.
We spend a decent amount of time in Seattle between work and pleasure and with the city becoming a major hub on the West Coast, we've stayed at the lot of hotels there over the years.  But perhaps my favorite was a stay at The Thompson last Summer after they opened and it's become a favorite.  From floor to ceiling windows, a great location and a rooftop bar with panoramic views of Seattle – what's not to love?
Reykjavik: Radisson Blu 1919 
It's no secret here on Land of Marvels that Nick and I have a deep love affair with Iceland and since Iceland Air flies direct from Portland we find ourselves in Iceland or traveling through quite often.  We've tried other hotels in and around Reykjavik but we keep coming back to the Radisson Blu 1919 Hotel.  The location is fantastic, the design "oh so Scandinavian" and it really is the best bang for your buck that you can get in Iceland's famous city.
If you're heading anywhere in Oceania, chances are you'll be flying through Sydney.  While we've only stayed here once, I would choose to stay here for any subsequent trips simply for the amazing views this hotel offers of the Sydney Opera House and it's great waterfront location.  Plus it's right off the train from the airport and the service is amazing.
If you're traveling anywhere through Asia, chances are you might be heading through New Delhi.  And if you're traveling through New Delhi, the Trident Gurgaon outside the city is a true gem for your list.  It's peaceful in a country that is often overwhelming to outsiders, has gorgeous grounds and holds up to the famous service standard of it's parent company, The Oberoi Hotels.  It's also really close to the airport so you don't have to sit in endless traffic and is designed impeccably.