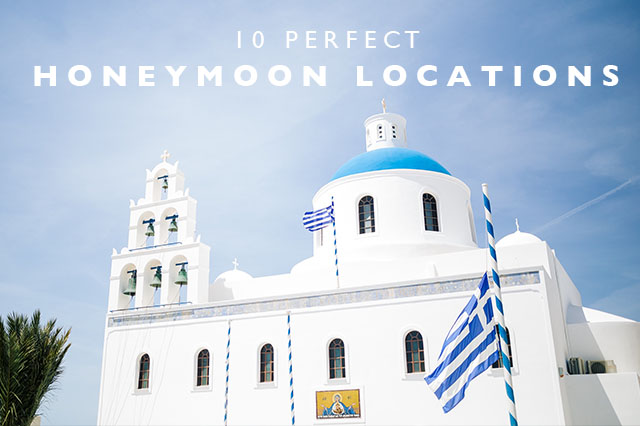 With the Summer upon us and many weddings ahead this season, there will be lots of newlyweds traveling soon.  If you're headed that direction or you just want a romantic holiday regardless, here are 10 perfect honeymoon locations around the world to head to for that romantic escape!
1. Paris
Is any place more romantic than Paris?  The French capitol is perfect for long strolls with that person you love, lingering lunches over amazing food and accordion players on street corners.
Stay here: Hotel Le Notre Dame
2. London
While the hustle and bustle of London might not seem romantic, try escaping to quiet neighborhoods like Chelsea and South Kensington, where the pace is slower, the buildings beautiful and you can take long walks with the person you love through Hyde Park.
Stay here: The Ampersand
3. Hawaii
Looking for beaches, culture and somewhere in the US?  Hawaii is a popular spot for honeymoons considering it's laid back vibe, romantic sunsets and long walks on the beach.
While this might not seem like a common choice, Udaipur is one of the most romantic cities I've ever been to.  It's lake location, palaces that are straight out of fairy tales and a slower pace of life, this city would make for a fantastic honeymoon destination.
Stay here: Oberoi Udaivillas
5. Sedona
Northern Arizona and specifically Sedona would make for a lovely honeymoon if you're into exploring the outdoors.  The romantic red rocks of this area would be perfect to explore with someone you love!
Stay here: Kimpton Amara Resort and Spa
6. Napa
The famous wine country of California is perfect for a romantic escape.  From amazing wine to great restaurants and lovely hotels, this area is perfect for honeymooners.
7. Amsterdam
This ancient city is a beauty and perfect to walk hand in hand with someone you love next to the endless canals eating waffle cookies.
Stay here: Sir Albert Hotel
8. Santorini
This famous Greek isle is picture perfect for a honeymoon.  From the views out over the ocean to the famous sunsets to the long lingering days next to the pool… this island is perfect for a romantic island escape.
9. Vienna
Easily one of the most romantic cities in Europe in my opinion, the architecture and the cobblestone streets of Vienna lend itself perfectly to a romantic escape.  And while you're at it, don't forget to indulge in some Viennese chocolate cake and apple streudel!
Stay here: Hotel Topazz
10. Tuscany
Perhaps the most romantic region of Italy, Tuscany would be perfect for a honeymoon.  From the hilltop towns to the endless green rolling hills, an escape here would be more than surreal.
Stay here: Poggio Piglia