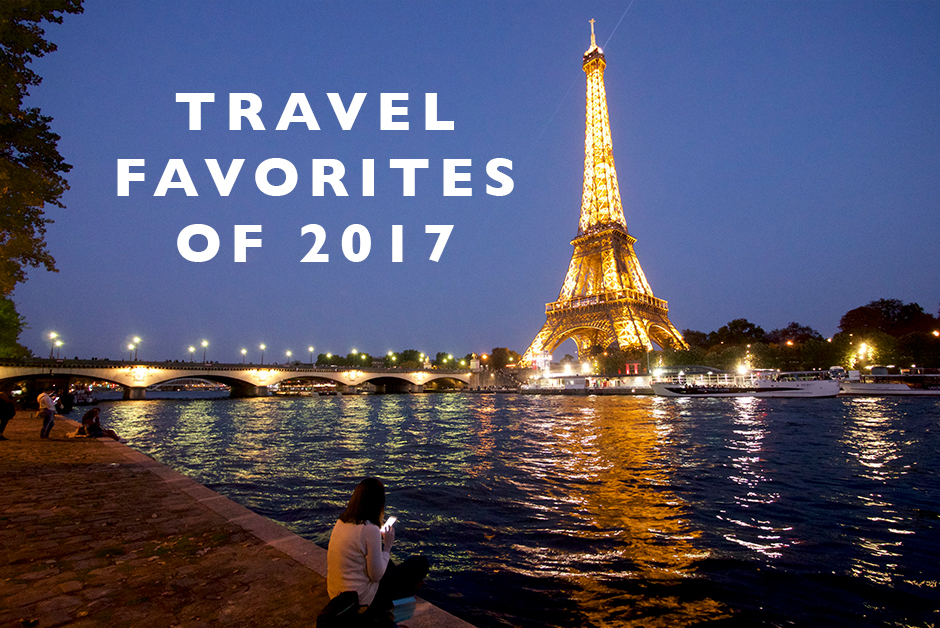 This year our travels took us to a lot of our favorite places as well as some new favorites and introduced us to some incredible spots around the world.  We were very Europe and US heavy this year and our travels ended up being a little bit more in our comfort zone than in years previously which in itself offered some different moments and experiences for us than traveling to places where you are totally out of your element.  But even in more comfortable settings, we fell in love with a lot of places this year and here are some of my travel favorites of 2017!
Favorite Travel Moment 
I think this has to be spending my 31st birthday in Paris, my favorite place in the world.  We booked this earlier in the year when I came across a great flight deal and spending a blissful Fall weekend in October in Paris with no plans was pretty magical.  We had picnics in the parks, watched the sun set over the Seine and ate at our favorite spots… all in all, it was incredible.
Favorite Reoccurring Travel Moment
We spent a few days in Amsterdam in the Spring and I'm always surprised when we go through the famous Dutch city how much I love it and how much I sort of forget about it.  We tend to go through Paris and London a bit more but I love heading back to Amsterdam as well and we enjoyed a few lovely days in the city earlier this year.
Biggest Travel Surprise 
In January of this year, we headed to Stockholm for the first time due to a deal on insanely cheap plane tickets.  I wasn't sure of what to expect from the Swedish city as we didn't love Copenhagen a few years back and I was expecting something similar.  All in all, we loved Stockholm!  The food, the people, the prices (cheaper than Denmark) and the architecture… we really enjoyed Stockholm and it's for sure a place we would go back to!
Worst Travel Moment 
While we loved said trip above to Stockholm, our travels there and back weren't super great.  On the way, Nick got really sick on the flight there and he was miserable.  Then on the way back, I got hit with the flu and a bad cold at once and spent the whole flight home going between shivering and sweating with horrible chills and congestion… all in all, while we loved Stockholm, we didn't love our travel there and back.
Best Hotel Stay 
I think this definitely would be the Hotel Pulitzer in Amsterdam.  We loved our stay at this hotel and I think it's definitely our new go-to while in the city.
Most Emotional Travel Moment
While I usually love this to be a beautiful moment somewhere, this year I think this year my most emotional travel moment was driving around Iceland in the Winter.  We encountered some intense wind and snowstorms during our time there and I felt a bit nervous multiple times driving around in the crazy weather there in November.  One moment in particular when I was driving in 75mph hour winds around the Vik area and stopped to get out and open my door, I truly thought the door was going to get blown off the hinges because the wind was so strong.  I was steering directly into the wind for the majority of our time there and it was definitely tense driving conditions.
Most Beautiful Scenery
One of the places I've been wanting to make it to for a long time is Provence in the Summer to see the lavender blooming.  So for this category, Provence definitely takes the cake!  It was so gorgeous to see fields of purple all around us and to see the incredible scenery of the whole Provence area in Southern France.
Favorite Landscape
For a single landscape, the Palouse area of Eastern Washington was definitely a standout for me this year.  I've been wanting to make it to this area forever and when we headed to Yellowstone for our road trip in May, we made an effort to go through this insanely beautiful area of the Pacific NW.  The rolling hills of green were incredible and I can't wait to get back to this area.
Favorite Country
I think that while I loved a few different countries this year, like Sweden and Austria, I'd have to give this category to France.  We got to explore a lot more of the country this year and made multiple visits which I felt so lucky to do.  And while we try to get to Paris each year at some point, this year we really got to take in some of the most beautiful parts of France and enjoy one of our favorite countries so very much!