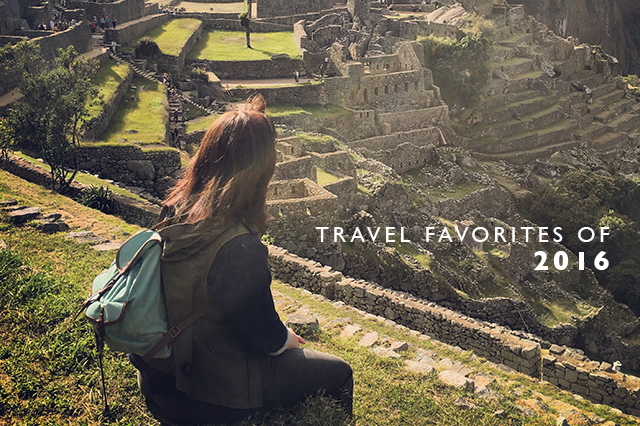 As I look back on 2016 and all the travel that we saw this year, we ticked a lot off our travel list and saw some incredible places around the world!  Through all of it though, certain things, for good or bad, stand out in my memory and I think it's worth noting them here, if only for my own memory.  Travel is sometimes amazing, sometimes exhausting and frustrating, but in the end it's beyond worth it for the memories you make and the places you see.
Favorite Travel Moment 
I'd have to say this is a tie between two of my all time favorite travel moments that occurred this year: Standing on top of the Great Wall of China in the early morning as the snow fell around us and looking down at Machu Picchu at dawn as the fog enveloped the monument and llamas roamed around freely.
Favorite Reoccurring Travel Moment
Sometimes there are things that we repeat when we travel because we love them so much.  I think this year, getting to return to Iceland and play with the Icelandic horses was probably one of my favorites moments that wasn't the first time I'd done it.
Biggest Travel Surprise 
Vienna!  When we were booking our trip to Santorini from Italy, the flight schedules worked best if we flew through Vienna and stayed the night.  This random stopover ended up becoming one of my all time favorite cities!  I was raving about it in the 24 hours we spent there and fell hard in love with Vienna much to my own surprise.
Worst Travel Moment 
On our way home from Iceland in September I was randomly selected for a secondary security screening.  Long story short, I spent 2 hours in line waiting to be searched, which in turn ended up delaying our flight and making it a huge hassle.
Best Hotel Stay 
We stayed at some amazing hotels this year, but I think the best hotel stay of 2016 had to be our stay at the Taconic Hotel in Vermont where we were spoiled our entire stay!
Best Flight
In the Spring, we cashed in our American Air miles and flew Business class to Europe and back with lie flat seats.  While we didn't love American Air in general, it was pretty amazing to spend the flight stretched out in a lie flat airplane seat!
Most Emotional Travel Moment
In August, Nick found out he needed to go up to the Anchorage office for his work and since we'd been wanting to get to Alaska anyways, I tagged along and we spent a week in Anchorage and the Kenai Peninsula.  We fell madly in love with the state and I was over the moon giddy with excitement our whole trip!
Most Beautiful Scenery
I have wanted to get to Vermont for the Autumn foliage forever and we finally made it happen this year for my 30th birthday.  Our drive through Vermont was one of the most beautiful drives I've ever done and the Fall foliage in New England in the USA is truly breathtaking!  Particularly around the Woodstock, Vermont area, I was ooooohing and awwwwing the entire way.
Favorite Landscape
Early in the year, we ventured down to the American South West and road tripped from Las Vegas to Northern Arizona, where we stayed in Sedona and made the drive up to Antelope Canyon.  I'd have to say by far, Antelope Canyon was my favorite landscape of the year.  It was just breathtaking and incredible!
Favorite Country
I think the last country we visited this year has to take the cake for this!  Japan was an amazing place and blew us away with how much we loved it!